AMG is an equal opportunities employer.
The AMG management team try very hard to be human in our daily interactions with our front-line team of tutors. That means that we try to be as flexible to the needs of our tutors as we would hope a manager would be with us. We all have our strengths and weaknesses. AMG management tries to work with each tutor to address concerns and worries as they arise, and consequently, we have some very positive feedback from our staff:
Integer eu libero sit amet nisl vestibulum semper. Fusce costant Proin sit amet mauris odio pellentesque iaculis posuer dapibus natoque penatibus et magnis dis parturient montes.

Elementum erat vitae ante venenatis dapibus. Maecenas cursus cursus Proin sit amet mauris et odio pellentesque iaculis.

Posuere erat a ante venenatis dapibus posuere velit aliquet. Proin sit amet mauris odio pellentesque iaculis. Cum sociis natoque penatibus duisean lorem llis noenan coeammodo luctus.
Sometimes, life as a tutor can be very tough. There are periods when the timetable seems unforgiving and the rewards minimal. AMG managers recognise this. Indeed, the senior manager is an AMG tutor herself and understands how hard it is to achieve a work/life balance. This is why the AMG week is structured the way it is. The following will show you what to expect as a tutor at AMG:
The Working Year at AMG
The working year is split into 'term-times', UK boarding school holiday times aka 'busy periods' and 'slack periods'. This graph shows roughly the ratio of 'term-times' to 'busy periods'. Clearly, there are spikes of extreme business for popular tutors when their students return from the UK schools for top-up tuition.
The 'slack period' is at the end of June and in the first week of July (before the UK schools have broken up). This slack period is where we recommend that our staff take a long and well-earned break. Their students have completed their public examinations, and the demand for tuition naturally falls off.
The AMG Working Week – during Term Times
AMG tutors are not required to be at their desks from 9 am daily, but are asked to be ready for their lessons, with prepared ideas, in good time for their scheduled lessons.
For AMG tutors, a week's teaching during HK school term time may look something like this: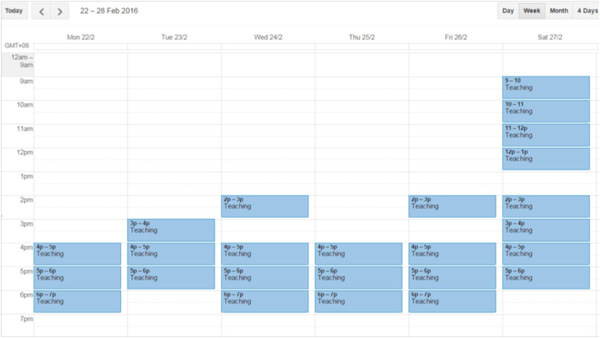 During Hong Kong school term time, work often starts at 3.00 or 4.00 pm in the afternoon and we generally end tutoring on Mondays to Fridays at 7 pm. (If tutors wish to offer a further hour at the end of the day, we are happy to find students to fill this 7.00 – 8.00 pm hour, but it is not compulsory.) Occasionally, students are free in the morning, so there will sometimes be students booked into morning times. Often, the timetable is disrupted by student cancellations.
As Saturday is not a school day, it is the only full day that AMG can offer classes, so on Saturdays, every tutor works from 9.00 am until 6.00 pm. There is a full hour for lunch.
In these weeks of term time, tutors will probably have between 18 and 25 hours of teaching on their schedules.
Clearly, how good you are determines how many hours you get to teach, so AMG has established a bonus system to reward those who teach well and who bring in more business to AMG. (See Remuneration)
The AMG Working Week – during Busy Periods
During busy periods, however, your timetable may look more like this. (Note that this is the extreme case, and few tutors gain such a following.)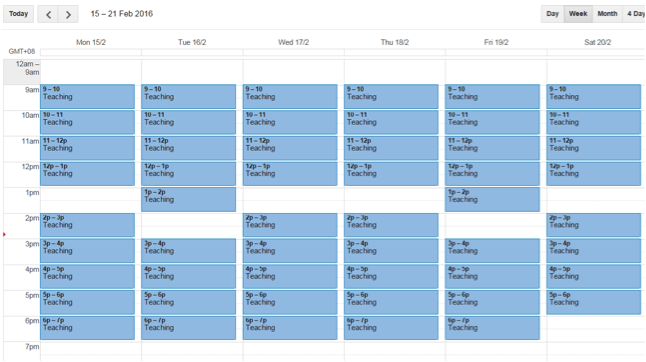 During busy periods, the tutor is likely to have to start at 9 or 10 am, and will keep teaching until either 6 or 7 pm at night. Horrible, right? Some of us love it, because we are meeting many students who we've been teaching for years. For some, it will seem stressful – until you learn to pace yourself. Each busy period is finite, generally of short duration and you should be earning bonus for every hour that you teach. Good tutors make more money, but they work harder.
In a nutshell, AMG tries to balance meeting student demands for tuition with the tutors' capacity to teach, and this sometimes means that you are teaching an awful lot. The busy periods can last one week (as in the half terms); three weeks (as at Christmas); four weeks (as at Easter) or six weeks (as over the Summer), but this accounts for only 16 weeks of the year. The majority of the year is just term-time.
Remuneration
AMG offers the following to full-time staff:
- Monthly salary commensurate on qualifications and experience (Current monthly salaries range between HK$24,000 and HK$27,000).
- Performance related Bonus.
- Health Insurance
- Flight to Hong Kong (if employed from overseas). This will be reimbursed to the member of staff after one complete year of the contract has been completed.
- One off Fit to Teach health check up including chest X-ray.
- Other financial assistance
AMG is happy to help cover the refundable security deposits on accommodation for staff.